2009 Annual Report: Making the Dream Real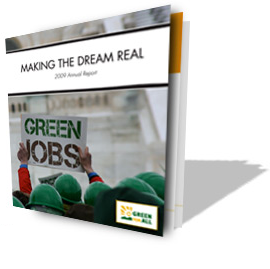 The movement for an inclusive green economy made great progress in 2009. Within that movement, Green For All had an especially successful year, thanks to our ability to engage people in action and bridge divides.
Our 2009 Annual Report details the work we've done in the past year. Please use the below links to take a closer look.
Online Viewing Requirements:
Because of the Annual Report's size, a broadband connection strongly recommended. Please allow some time for the pages to load. In addition, the Adobe Flash Player is required to view the online Annual Report.
If you experience slow loading times, please consider downloading the PDF version (21.2 MB).
Screenshot of Page Controls